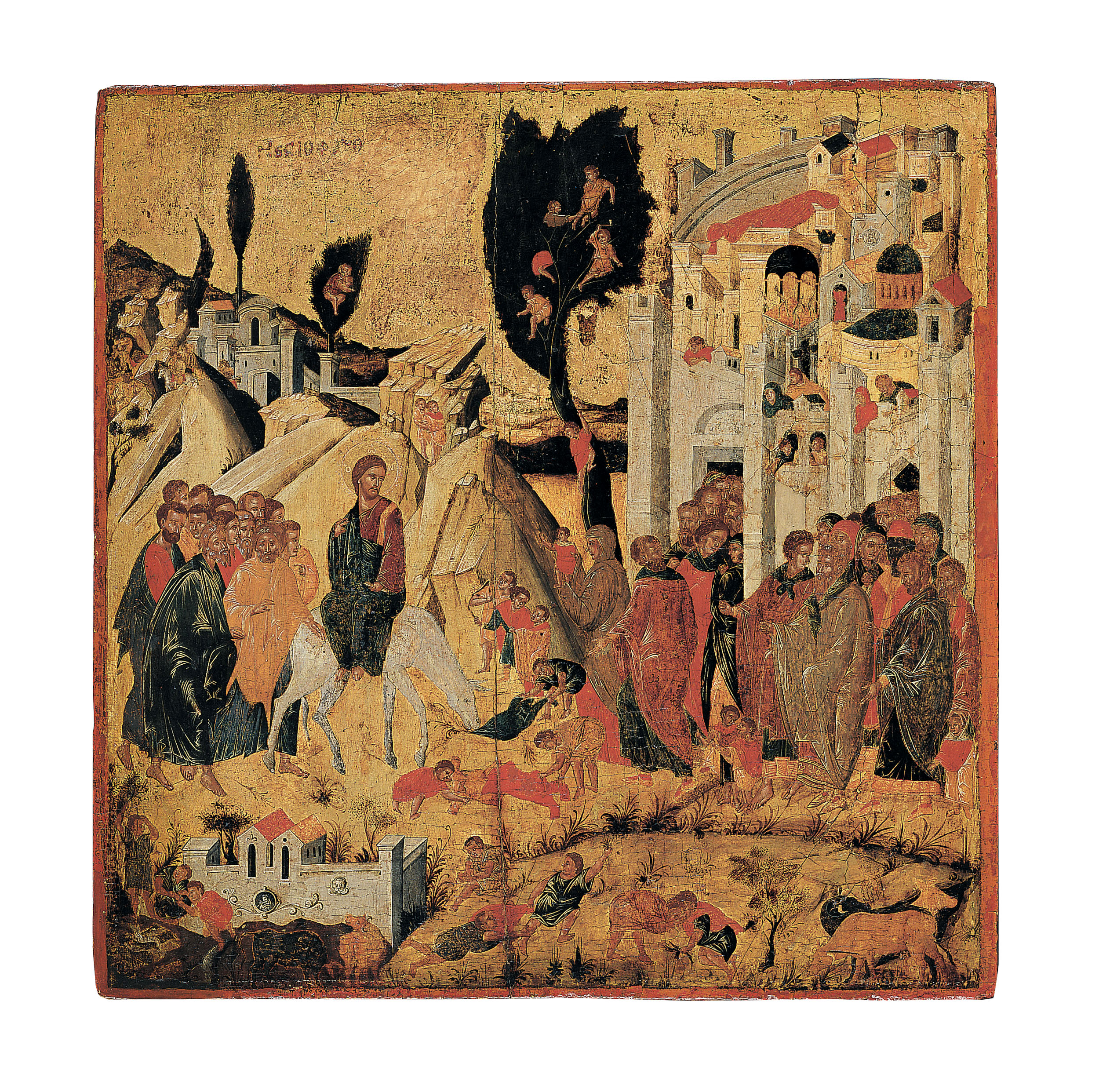 The Entry into Jerusalem
Christ's entry into Jerusalem, with his disciples, takes place in a rich landscape, which extends into the background, and in front of the wall of the city. Christ "on the foal of a donkey" advances to the right and is placed on the left of the composition, accompanied by a dense group of apostles. Developed in the background is a landscape with rocky mountains, in which projects, on smaller scale, a walled city surrounded by three trees. Jerusalem, with numerous buildings behind the walls, occupies a conspicuous position on the right of the composition. A multitude of Jews, gesticulating animatedly, comes forth from two gates and proceeds in front of the walls.
The composition is characterized by the varied landscape, which develops on successive levels in the background, and the penchant for detail, evidenced by the secondary episodes from the daily life of little children in the countryside, on an extremely small scale, as well as by the introduction of abundant decorative elements, such as the mask motifs in monochrome technique on the facades of the buildings. Diverse groups of children holding palm fronds welcome Christ, spreading their garments on the ground and clambering up trees, or have already climbed up a tall leafy tree and are lopping off branches, in front of Jerusalem. Additional small figures peep out from the walls of the city and through openings in the walls and the buildings, while in the distance in the landscape left, in miniature, is a figure mounted on a quadruped and a host of little children, one up a tree and two others on a knoll watching their friends in the tree. In front of the main composition, where the soft planes of the brownish foreground with the sparse vegetation spread, are two cows on the right, a built fountain on the left, as well as the one "crowned with thorns" and other small children playing and wrestling in lively movements, all genre elements of a bucolic landscape.
Read more