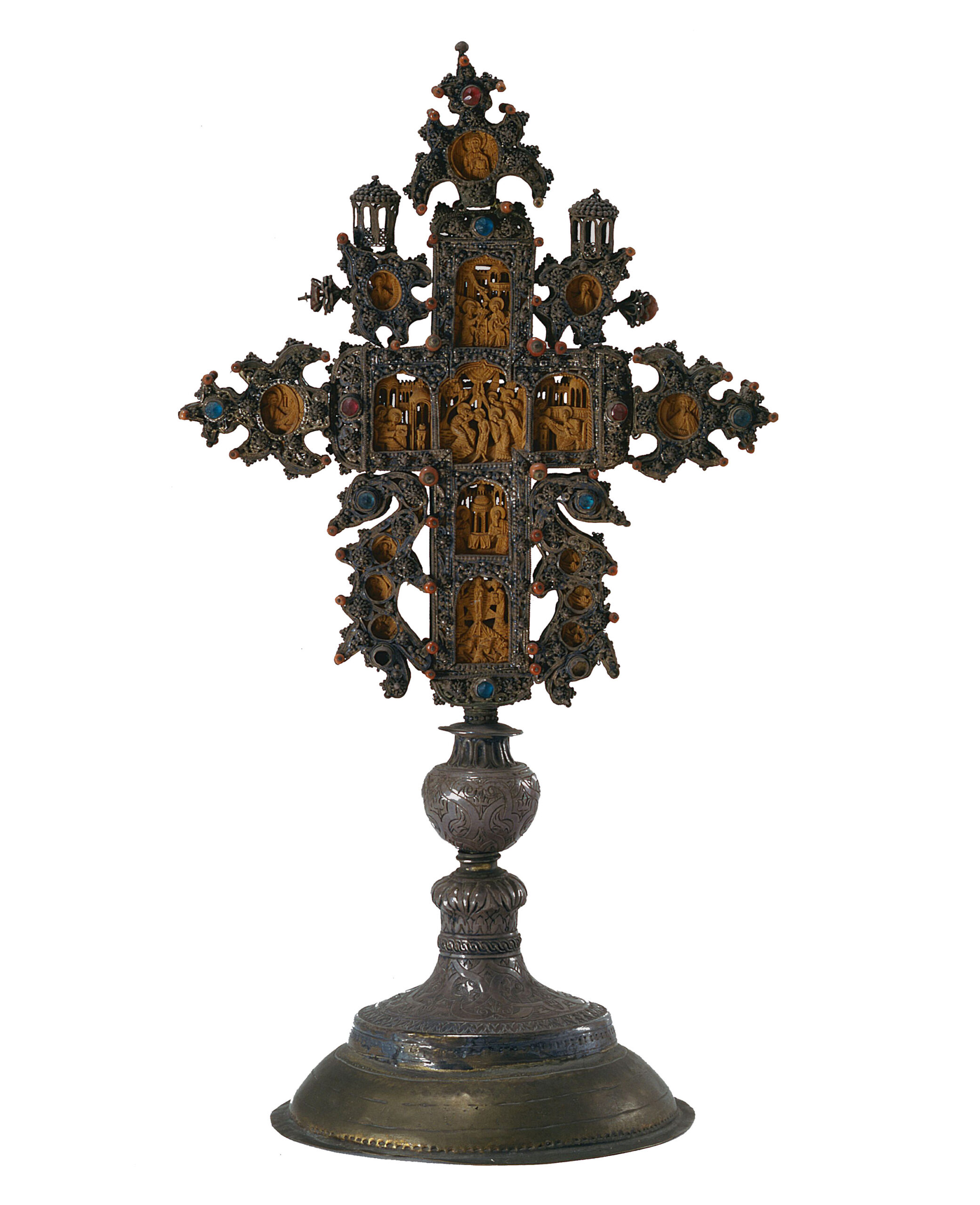 Wood-carved double-sided consecration cross
The cross is affixed to a metal base and mounted in an intricate frame decorated in filigree technique and, embellished with corals and blue and red glass gems. The frame also surrounds each representation. The arms of the cross are supported left and right by dragons, on the bodies of which are four medallions. Right and left of the upper arm are medallions crowned by cupolas, while corresponding medallions adorn the vegetal finials of the horizontal arm. There is another medallion above the vertical arm of the cross. For the frame see Radojkovi 1996, pis 175, 196, 197.
The decoration is typical of wood-carved crosses. Represented against an openwork architectural background, a technique that prevailed in Balkan lands from the seventeenth century (Si-monopetra 1991, 167), is the Crucifixion at the centre of one side, with the Evangelist Matthew left and Saint John the Theologian with Prochoros right. Above is the Presentation of Christ in the Temple and below the Man of Sorrows and the Descent into Hades. High up, inside a medallion, is the Virgin Platytera, while in the medallions on the horizontal arm as well as in those formed in the upper angles of the cross are prophets.
Represented in the middle of the other side is the Baptism, with the Evangelists Mark and Luke to right and left. Above is the Annunciation, below are the Apostles Peter and Paul, and the Transfiguration. High up in a medallion is Christ. In the medallions on the horizontal arm are Noah left and Samuel with the horn right, with busts of prophets in between.
ERSI BROUSKARI