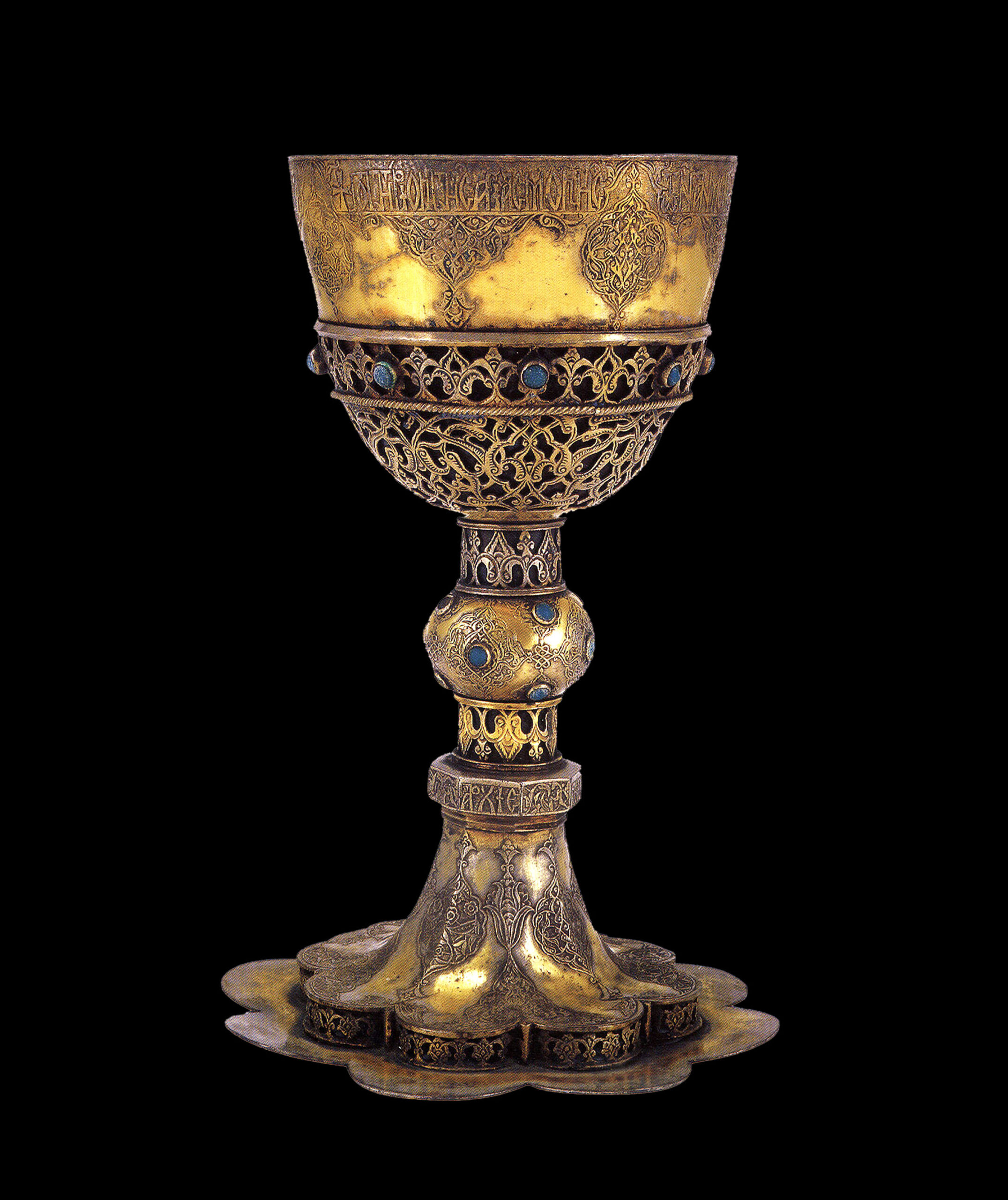 Chalice of the prelate Theoleptos
The cup is of silver gilt and in addition to the inscription on the rim is decorated with engraved half and whole palmette motifs (the so-called rumi) terminating in trefoils. The hemispherical canistrum for the cup has pierced-work decoration of vegetal and floral arabesques, and is set with eight semiprecious stones on the rim. The stem is cylindrical, openwork, with a spherical knob in the middle, decorated with engraved palmettes and twelve blue stones.
Interposed between the stem and the base is an octahedral ring inscribed with the name of Theoleptos. The base is prismatic with a slight curvature and ends in eight lobes set on a low vertical pierced-work device, which in its turn terminates in eight horizontal plain lobes. It is decorated with engraved rhomboid rosettes ending in fleurs de lis, half palmettes and lotus-shaped rosettes. The base, the stem and the canistrum of the cup are of gilded bronze.
The chalice of Theoleptos is an outstanding example of sixteenth-century ecclesiastical silverwork. Its shape in general echoes Late Gothic models, which had already appeared in church plate in the time of the Palaiologan dynasty. However, the decoration with lotus-shaped palmettes, saz leaves and rumi, clearly reflects the Ottoman aesthetic that held sway in the sixteenth century. There is a similar chalice, bearing the date 1568, in the Decani monastery in Serbia.
The "holy monastery on Mount Sagas" has been identified (Byzantium 2004, 446, with earlier bibliography) with the now dissolved and ruined monastery of the Taxiarchs on the island of Naxos. The prelate Theoleptos is Patriarch Theoleptos II, who must have visited the Cyclades either before or after his brief patriarchy (1585-1587). The name of the gilder, Rizas, most probably refers to his place of origin, Rizaion in Pontos, from where Theoleptos's father also came. The silversmiths of Pontos were famed from the time of the Grand Komnenoi, and during the Ottoman period two subsequent sultans, who were born in Trebizond, were apprenticed to Greek goldsmiths in that city: Selim I (1512-1520) and Suleiman I the Magnifi¬cent (1520-1566).
CONSTANTINE SCAMPAVIAS